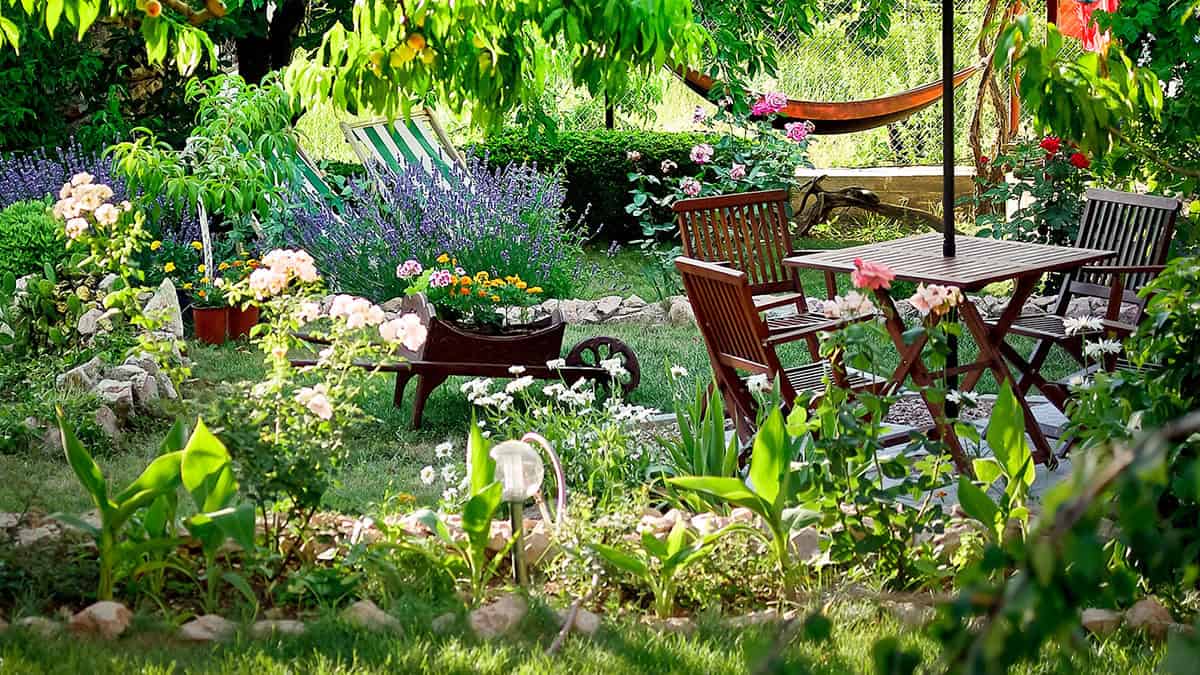 Hubert's garden
Hubert's new flat is a hit! Centrally located, quiet and best of all: with a large garden! He feels really comfortable there and wants to show it. The garden will be a little paradise, and the neighbours will be green with envy at all the things that will blossom and grow in his garden. His garden will definitely be the most beautiful. In the garden centre, the money is poured in. Only the most expensive perennials, a stately hedge of copper beech, a vegetable patch for his own organic vegetables and, of course, the finest ornamental lawn for sunbathing. For weeks Hubert can only be seen outside, sweating, digging and ploughing in the truest sense of the word... But it's worth it. The new garden has become a paradise. The garden is a dream, the lawn doesn't want it yet, but it will get there.
Three years later, Hubert is on his way to one of his many business trips abroad and glances briefly over his garden at the gate. Half of the perennials now consist only of leafless branches, which seem to look sadly at Hubert somehow. The vegetable patch has mutated into a wild meadow, which is also interesting, but somehow not intentional. Goutweed, maple and nettle dominate. Well, the harvest of potatoes and peas has always been meagre anyway. The ornamental lawn can still be glimpsed in one corner, otherwise the moss has taken over. Hubert has not wanted to show off the garden for a long time, but fortunately no one sees it, because the hedge urgently needs trimming. "You'd have to do a lot more," Hubert thinks, "maybe I'll just make a rock garden out of it. It's boring, but I don't have to worry about it..."
Hubert's marketing website
As a gardening enthusiast, of course you don't feel that way. You have your garden under control and it is fun and enjoyable for you to connect with nature on a regular basis.
But: how many entrepreneurs handle their precious marketing website the way Hubert does? At the beginning, the euphoria is great, everything has to be really good, no costs and efforts are spared to use the latest gadgets on the web. Some website projects with only 10 pages take almost a year because this time everything has to be 100% perfect.
After the launch, the website is the showpiece for six months, proudly leading partners and colleagues. Gradually, the euphoria turns into everyday life, the web continues to grow, new technologies emerge and the website is suddenly no longer so modern. It is difficult to use on smartphones, videos can no longer be played, the latest news is from 2015. Oh yes, the pictures of the employees urgently need to be updated, after all, fashion doesn't stand still and recently there was news about new legal requirements. We should be doing a lot more, but it's been so long since the training on website maintenance. So once again, and this time properly ... to be continued...
The scenario is at least familiar to us. Therefore, we found this metaphor quite fitting: the image of plants or the garden as a synonym for an area where constant growth but also care should take place. The garden is a good example of goal setting, patience and the cycle of yield. Whether it is an ornamental garden or a vegetable garden, both need regular and coordinated care. These are the strategies. It is the same with websites. The strategy, i.e. the implementation of your objectives, is decisive for the type and scope of the daily work. After each round of strategy implementation, evaluation and reorientation are needed. And then you start again. The cycle of digital life. Sounds trivial? True. But off the cuff, can you name the three most important targets for your website? By when do you want to achieve them? How do you measure success?
Let's play with metaphors a bit more 🙂
Every marketing website needs "good soil":
This is the underlying technology: business hosting, a good domain name, an SSL certificate and speed-ups like content delivery networks and caching systems.
A marketing website needs water and nutrients:
This is the new content and ideas for new content that should keep coming. Sustainable branding today comes from content marketing, and your website is a key medium for this.
A marketing website needs pruning and replanting:
This is the regular optimisation. By evaluating user behaviour on your website, you find out which pages or content should be prioritised differently. What is particularly popular to click on? Where do visitors overlook content? This is then like the pruning done in the garden to increase the yield or like the transplanting of perennials to give them better light conditions or to remove competition with other perennials.
And the conclusion?
We have drawn you the picture of the garden to make you aware that you should also go through a permanent work process with your website in order to be successful:
Because your website is a powerful and relatively inexpensive marketing tool that belongs to 100% you alone. You can shape and design it according to your ideas, to reap rich harvests or simply to look good. Growth takes planning, regular work and patience, but the harvest is worth it - because if your website grows, so does your business.
We believe you don't need a new website every few years, but your website needs regular and systematic maintenance.
And what does the garden gnome stand for?
The garden gnome stands for the garden gnome.